Yosemite's ADA services:  Pluses and Minuses 
By Kathy Chin Leong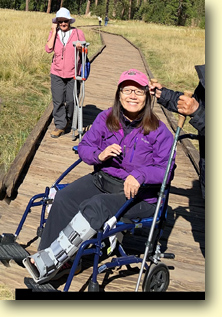 You've planned a trip to Yosemite National Park, and a few weeks before you travel, you tear your Achilles tendon and wind up in a wheelchair. Do you cancel?  Heck no!  Yosemite is set up with ADA services, and after I popped my Achilles on the pickleball court, I was still eager to go. I never had to use a wheelchair, so this experience would be a first.  There were advantages and disadvantages to the weekend which tells me that Yosemite's approach is good, but still needs improvement.   While this happened to me as an adult, if you have a child who has to be in one of these predicaments, read on so you will know what to expect.  

TENT CABIN
First, my husband and I booked a heated tent cabin in Curry Village.  When my accident occurred, I called to revise our reservation to secure an ADA cabin, but that was already taken.  So, we maintained the heated tent cabin, and that proved to be quite dicey. There are about three wooden steps that lead up to each cabin's door. I had to grab my crutches and leap up, step by stressful step.  I was not adept using these aids. 

My suggestion?  Perhaps the park services at Curry Village can purchase and store a portable wheelchair ramp and have it ready just in case.   One plus was that the housekeeping services helped us out with its golf cart, and a wonderful staffer drove us and our luggage right up to the door.
Another challenge was visiting the restroom at Curry Village. No automated wheelchair door is available at the one with showers, so I had to rely on the kindness of strangers to open it.  My husband would wind up following me at every bathroom stop and monitoring me throughout the trip.  

To its credit, Curry Village does offer wheelchair ramps to dining and shopping facilities.  While other people would run up a few stairs to get to the grocery store within seconds, I had to zig and zag my way up on the ADA ramp in my chair which required several minutes. But the path was very smooth, and I am grateful I had access.  Inside the market, the aisles were wide enough for me to maneuver alone.

PREPARE, PREPARE
Every place we went for the duration of the trip, I had to figure out the handicap parking situation and learn which hikes were ADA-friendly. It meant studying the map of Yosemite's Valley Floor.   For our off-season journey in October to see fall colors, we found ample handicap spaces each time we went to a different section of the park. Plenty of vista points were available to drive up to and park at.


THUMBS UP ON TRAM TOUR
If you are ever in a disability  situation or have someone in your group unable to walk, I wholeheartedly recommend the Valley Floor tram tour of two hours for less than $40 per person.  As I was able to alternate between wheelchair and crutches, the driver was very kind in storing my chair under the tour bus and taking it out at every stop. The peaceful and accessible Valley Floor tram tour is excellent.  You book ahead of time for your morning or afternoon time slot.  On the day of your tour, meet in front of Yosemite Lodge for your pickup.  That's it. The driver who also works as your guide provides an excellent historical perspective, info on the geology, and details on the flora and fauna. 

The large tour bus features vast windows with comfortable seats. With four stops, you pause for about ten minutes at major vistas, each with panoramas so breathtaking you will never want to put down your camera.  Half Dome, El Capitan, Three Sisters, Lake Merced, and more greet you, each ready for that Christmas card snapshot. VISITOR CENTERA visit to the Yosemite Visitor Center is a treat.

The building features exhibits of the geology, and plenty of rangers and volunteers are on hand.  Also part of the visitor center experience is the Yosemite movie reel that loops throughout the day. The theater represents a nice hideaway when you want to sit down and rest a spell.  The movie reveals beautiful footage showing what the park looks like throughout the seasons.    One inconvenience was the fact that we were told by volunteers and staff we could not park close to the visitor center, so we had to wheelchair over there for about 15 long minutes from Yosemite Lodge. Upon reaching our destination, we saw a sign that read something like: parking for employees and handicap visitors. Why didn't anyone give us this important information or know about it? 

When we got to the Yosemite Valley Visitor Center, the automatic handicap door did not open when we pressed the large wheelchair button.  My poor husband had to struggle pulling open the door, leaning against it while somehow rolling me to get through the threshold.   If you come in a wheelchair, be ready to have your significant other help you out.  


HANDICAP PATHS
In terms of paths for wheelchairs, there are a few you can enjoy.  Lower Yosemite Fall is a short one-mile accessible trail. You will find pavement between buildings such as the path between the lodges and The Ahwahnee Hotel.  A wooden plank path near Curry Village is doable on crutches and via wheelchair, but make sure you can handle the bumpiness between the planks. 
You can bypass regular parking and find a super close handicap parking stall near Happy Isles. The Happy Isles hike is partially viable in wheelchair until the pavement becomes dirt, and then it gets steeper and bumpier.  I had to get out of the wheelchair and move on crutches for a little bit, and then turn around as it became uncomfortably steep for me.  

SHOPPING & CLASSES
What else can you do in Yosemite if you cannot hike?  Go shopping for artwork, clothing, and gourmet goods. At the Curry Village market, I found Yosemite branded wine. Then at The Ahwahnee Hotel gift shop, the park's most upscale store, you'll discover pottery, jewelry, and photography – all high quality, unique, and attractive.   At last count, Yosemite is home to at least a dozen stores, albeit, mostly shops selling essential grocery and camping goods.    You can take classes in the park as well. 


Look on the website, www.travelyosemite.com  to check out days for art workshops at Happy Isles Art and Nature Center and photography courses from the Ansel Adams Gallery.  One of the park's wine and paint classes is on my to-do list for my next Yosemite adventure.  History is a huge part of Yosemite, and don't forget to partake in the Indian cultural program at the Yosemite Museum. While at the park, look for ranger talks, stargazing journeys, and a free hotel tour of The Ahwahnee. 

You can relax in The Ahwahnee's lobby and enjoy the great room, open to all Yosemite visitors.  Bring a book and huddle by one of the many fireplaces.   At the end of the day, I was elated to be in Yosemite even though I was confined in wheelchair. It is certainly a different experience when you cannot rely on your legs, but gazing at golden Half Dome at sunset and adjacent natural landmarks only lifted my spirits. And, as I told other tourists who looked at me and my wheelchair in surprise, "I'd rather be here than at home staring at my four walls!"

****
Details:
Yosemite National Park: travelyosemite.com