An Unforgettable India: Inspiration
and Beauty Clothed in Rags
By Shana Patadia

(Shana Patadia, Campbell resident and senior at St. Francis High School, traveled to India this summer, volunteering her time at a girls' school. This is Shana's account of her fascinating adventure. – Editors)

In late June, I had the privilege of meeting Mr. Sushilkumar Shinde, the governor of Andhra Pradesh, the most technologically advanced state in India. One would think that meeting with such a big national figure would be the highlight of a vacation. It would be assumed that for the next several months, I would narrate the story of how I was "oh, so swept away by his powerful presence and how he so graciously gave me 15 minutes of his precious time."

HUTATMA RAJ GURU SCHOOL


Truthfully, what I did two days later left a much bigger impression on me. On a beautiful Saturday during my vacation in India, I visited Hutatma Raj Guru School for Girls, a school for reighth, ninth, and tenth grades. Unlike the United States, businesses and educational institutions in India operate six days out of seven. This girls' school serves as an educational facility for the extremely underprivileged in the socio-economically disadvantaged area of Pune, a large city not far from Bombay.

No, I didn't pull any strings to get this opportunity. I actually just introduced myself to the school and explained that I wanted to help out. In every city you will find economically disadvantaged people who would be glad to have someone help with their everyday activities or even to just spend time with them.

Hutatma Raj Guru is known as a corporation school, meaning that it is supported by the government, and the tuition, though low, is still difficult to pay for the impoverished. Since it is in a very poor part of a relatively wealthy city, as one nears the school, it is apparent that the level of prosperity declines. The roads are rarely frequented by cars. Fashion, décor, and other such flamboyant extravagances are last on the priority list for the residents here.

STUDENT BACKGROUND

Most of the girls attending the school come from the nearby huts and houses. The vast majority arrives on foot. They arrive early in the morning and are finished in time for lunch. The class sizes are much larger than a typical middle or high school class in the U.S., with anywhere from fifty to seventy girls.

The Indian girls I met were lively, with hair in braids, and clad in white and green uniforms. They were full of smiles and giggles and blushingly shied away from my camera. As I walked upstairs to a classroom, I saw about fifteen of them standing outside, deliberately kept out because they were late.

The teacher who escorted me to the classroom let them in, and as they were seated, all the tenth grade girls inside the classroom craned their necks to get a good look at me. The girls were so eager just to smile at me, hear me speak, get my "autograph," or shake my hand. They experienced great joy in the few moments I shared with them. They were all beautiful, intelligent, eager, and hardworking girls, many of whom were coming to school entirely of their own accord, and many of them earning their own tuition money.

NATIVE CURIOSITY


The girls all had interesting names that were new to me; Seetal, Shamal, Firoja, Pornima, Ghagyashree, and many more tongue-twisting monikers. They eagerly asked me questions about my lifestyle and schooling. It was an interesting experience because they could speak fluent Marathi (a common Indian dialect) and were learning English, and I was the exact opposite. I had a firm grasp on English, but was in the process of improving my very basic knowledge of Marathi.

The girls probed me with much curiosity on the marriage customs of America, my daily routine, what I thought of India, and what my goal was in life. They even convinced me to sing two Hindi film songs for them! Some were shy at the beginning, but slowly opened up to me, and when it came time to leave, they all insisted on shaking my hand and asking softly but boldly, "Friends?"

These girls had rarely or never seen people from other countries and many aspired to one day go abroad. When I was signing my name and a short note in their books, one of the girls asked me to give her my address and phone number, telling me that when she comes to America, she wants to visit me. I was so glad that she was willing to dream so far, but was saddened once more when one of her classmates said not to be silly because she would never go there. Much to my surprise and joy the girl resolutely insisted in Marathi, "I will go!"

Just looking at them inspired me to return multiple times to their school to speak with them and to encourage them to continue in their struggle for survival and success. At times I would wake up early on a Friday or Saturday morning and wonder why I would ever volunteer to cut my sleep short, but each time they greeted me with awe and respect, making each trip fully worthwhile.

STUDENT HOME LIFE

These girls live in tiny cramped quarters often with 7 to 10 other family members. They struggle for food and health. Many of their fathers drink, beat their wives, or lounge around in the only bedroom of the house all day long, leeching off their children's work.

The girls not only attend school, but then go to work and take care of their siblings. Society often puts them down because they are female and considered weaker and less useful. Their parents discourage them from studying and prefer that they stay home and learn to become good housewives; thus they must often make time on their own for their schoolwork and earn their own school money. A few of them may attend colleges and universities, but many will remain at home to take care of their siblings and parents and to work.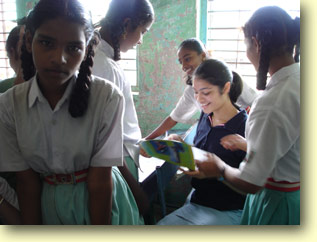 Once college begins, traveling to India will be more difficult because my schedule will become more hectic. However, these girls, coupled with my family, will be my incentive to make time to visit again soon. Seeing their perseverance and optimism, I am inspired to learn from them so that I can help keep those smiles on their faces as they mature through adulthood.
****
WHEN YOU GO, REMEMBER:  
*Weather in India is generally warm year round, but especially rainy and humid during June through August.
*Best times of year to go are from September to February.
*One dollar is equivalent to about 50 rupees.
*English will work in most places but it is good to have some guide to the Hindi language on hand.
*To volunteer in India, contact any organization or school. Most places will be glad to have a foreigner who is interested in helping out. Corporation or government schools would be great places to volunteer.
*Dress in clothes such as full pants and T-shirts to accommodate both the culture as well as the heat, humidity, and mosquitoes.
*Airfare is typically $900-$1500 roundtrip.
NOTEWORTHY WEBSITES:
http://www.tourindia.com/ - for travel information.
http://www.indiatourism.com/ - for additional tips and ideas.
Shana Patadia is an aspiring, young writer. This is her first article for BAFT.