Cupcake Love comes to Silicon Valley
By Kathy Chin Leong


When Sprinkles Cupcakes opened its doors at Stanford Shopping Center in September, Bay Area foodies and food bloggers were already jockeying for position in line. Some came as early as 7 a.m. for the 9 o'clock opening.  By noon, over 50 people were queuing up, patiently studying the menu, patiently standing an hour or more for their own sweet parcel.  "I had a Sprinkles in L.A., and I'm not even a dessert person, but for Sprinkles, I'll come," said Suzette Villa, a local nurse, who was waiting towards the back of the lineup.

Welcome to Silicon Valley, a.k.a CupcakeLand.  Today, a slew of cupcake-only havens have risen all over the county, followed by cupcake recipe books, and cupcake dishware, bakeware, and tiered display racks.
Not only are cupcakes are fun to eat, they are, well, practical. Why buy an entire carrot cake and worry about leftovers when you can purchase its cupcake counterpart  and eat it there on the spot?   Cupcakes are all the rage at adult birthdays, weddings, and company shindigs.  When you purchase an assortment, your guests can pick and choose their faves.  And when there's no slicing involved, you don't need knives, forks, or plates. 

True, fresh bakery cupcakes aren't bargain desserts. Averaging $2.33 to over $3 a cup, consider this treat comprable to purchasing a Starbucks coffee drink. While cupcakes seem like generic products, you haven't lived until you've had a fresh cupcake from one of these local bakeries. For sure, no two ovens and no two bakeries are created equal.

SPRINKLES

Over at Sprinkles, you can choose from 10 different cupcakes each day. However, there are over 20 different flavors and because the store can only bake so many, owner Candace Nelson said they offer the flavors on a rotational basis.  For instance, you'll find banana on Monday, but not on Tuesday.  The mocha is available on Thursday, but not on  weekends. Your best bet is to check the website, sprinklescupcakes.com to find out which day will feature your top pick.

Sprinkles Cupcakes cost $3.25 each, and are made with top notch ingridients, quality chocolate and vanilla, real strawberries, fresh bananas.  They are made with the same ingredients used throughout the other Sprinkles stores for quality uniformity and taste, and do not contain preservatives, artificial flavorings, or transfats.   Some of the more innovative concoctions include ginger lemon, peanut butter chip, peanut butter chocolate, and chai latte. 
The most prized flavors include the strawberry, red velvet, and vanilla.

Across the yummy product line, these cupcakes are extremely moist, hearty, and satisfying, a great comfort food with a generous layer of thick frosting that's sure to give you a sugar high.  The frosting is so popular the store sells frosting shots in a tiny plastic cup.  Weighing in at 5.5 ounces, the cupcakes are about three inches wide with round full tops. Each one is sprinkled with a candy or coconut garnish or topped with its signature candy circle with a contrasting smaller circle.

New are custom-made candy letters so you can order a set of cupcakes to spell a name.  Unfortunately, the store is made for to-go orders with no tables or chairs to stay and linger.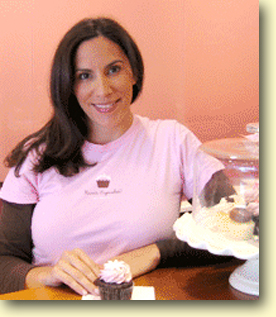 KARA'S

In the Bay Area, Kara Haspel-Lind staked her culinary claim to fame with northern Cal's first cupcake bakery in 2007 when she opened Kara's Cupcakes in the Marina District in San Francisco. It was so successful that she opened a second bakery in San Francisco's Ghiradelli Square.  In September she launched the Palo Alto Kara's at the Town and Country shopping center. Santana Row Shopping Center in San Jose will unveil a fourth Kara's Cupcakes soon.
 
Compared to Sprinkles, Kara's Cupcakes are lighter and a little smaller with melt-in-your mouth whipped butter cream frosting.  The frosting does not taste as sweet as Sprinkles.  At $3 each, these weigh 4 ounces and are about 2.5 inches wide. It is a daintier dessert with interesting filled cupcakes such as a vanilla cake filled passion fruit, banana cupcake injected with caramel, and a chocolate loaded with caramel and topped with ganache.
In addition to traditional vanilla and chocolate, Kara's features an intriguing and delectable Meyer lemon with a refreshing frosting, tart lemon filling, and light and moist cake bursting with flavor.   In all, the store sells 14 flavors. For those who want a one-bite taste, $2 mini cupcakes are available.

Window dressing at Kara's resembles a jewelry store.  Each is clean and airy with plenty of light. The cupcakes seem to glow under glass like expensive trinkets. On the wall, the Kara's Cupcakes is written in chocolate brown script with a tiny brown cupcake floating on top. It looks precious against a pink glass wall at the Palo Alto store.  And the cupcake tops themselves are swirled, dotted, and picturesque in every way. Many are topped with a candy daisy cutout.

Unique to Kara's Cupcakes is the fact that all the ingredients in the dessert are locally grown and purchased. As much as possible, the tries to buy organic.  The organic flour comes from South San Francisco. The salt from Newark.  She sells organic Flying Goat brand brewed coffee from Healdsburg. Like Sprinkles, Kara's bakes cupcakes throughout the day to ensure that customers get a cupcake that is minutes or just an hour or two out of the oven.    A few tables and chairs inside and outside make Kara's a fine coffee and snack stop after a busy day.


SUGAR, BUTTER, FLOUR

Over at Sugar Butter Flour, hidden in the back of a shopping strip mall in Sunnyvale, an assortment of seven cupcakes along with other carbo pleasures is sure to make your mouth drool.  Each type of cupcake has been requested from customers, and represents a personal serving of the larger cakes the bakery offers.  These flavors include: coconut, pina-colada, carrot cake, red velvet, marble cake, and chocolate truffle.  And let's not forget the vanilla cupcake injected with raspberry filling. One fan from Cupertino raved, "It just exudes with raspberry flavor. It's a moist cake too."  

The marble cupcake, topped with chocolate, is ideal for those who are undecided between the vanilla and chocolate.  This layers white and dark, satisfying both cravings.  

Sugar Butter Flour cupcake dainties cost $3 each, and these usually run out at the end of the day.  The frosting is thick and hearty while the cakes are medium in density so they complement the frosting well.  Irit Ishai, owner and pastry chef, says she uses the same cake batters in her cakes as her cupcakes. Each day she sells about 80 cupcakes, and also takes special orders for decorations.  At Sugar Butter Flour, customers can order cupcakes as well as an assortment of bakery goods, sandwiches, coffee and drinks.  She also sells a $5 individual flourless raspberry cake, ideal for those with wheat allergies. 

Sugar Butter Flour is known for its designer cupcakes as well as its artistic cakes made of sugar-rolled fondant. You'll find cakes shaped as Gucci purses, giant spiders, Chinese take-out boxes with chow mein noodles flowing out. Owner Irit Ishai recently opened a second venue in the PruneYard Shopping Center, in the former location of Mrs. Field's Cookies. According to Irit, cupcakes are in high demand with customers who are quite vocal about their favorites.

A few tables and chairs scattered inside and outdoors makes this location, and her new one in the PruneYard Shopping Center, great gourmet finds.

GOT CUPCAKES?
 
Over in Santa Clara, cupcake master Jamie Meyer has taken a different approach with her baking business. Customers can order via telephone or online for her delicious cream cheese frosting-topped cupcakes. The minimum order is two dozen at $56, and an additional dozen runs $28. Do the math, and that's equivalent to $2.33 each, less than the storefront bakeries. 

She already has corporations such as Apple Computer, Cisco, and Google clamouring for her soft wares, and bakes the goodies out of her home. Working full time in a local high-tech company, Meyer bakes at night and on weekends. She usually frosts the cupcakes in the mornings, and delivers them for a minimal fee of $15 in the South Bay. 

Basic flavors include: vanilla, chocolate, key lime, red velvet, carrot cake. This fall she will add a caramel white chocolate chip to the menu as well as a moist pumpkin.  In the winter, customers can look forward to apple cranberry and gingerbread. However, she says she can bake any type of cupcake upon request. 
Can't decide what type of dessert to select for your next event?  Try one of these bakeries and see if you can resist becoming a cupcake-a-holic.

****

Where to buy:

Sprinkles Cupcakes
393 Stanford Shopping Center
Palo Alto
 650/323-9300 
www.sprinklescupcakes.com

Kara's Cupcakes
855 El Camino Real Ste 50
Town & Country Shopping Center
Corner El Camino/Embarcadero Rd.
Palo Alto
www.Karascupcakes.com

Kara's Cupcakes
3055 Olin Ave., Ste 1010
Santana Row
San Jose

Sugar Butter Flour
669 S. Bernardo Ave.
Corner El Camino/Bernardo Ave.
Sunnyvale
www.Sugarbutterflour.com

Sugar Butter Flour
1875 S. Bascom Ave.
PruneYard Shopping Center
San Jose
www.Sugarbutterflour.com

Got Cupcakes?
Custom orders only online
Minimum two dozen
 408/212-6497 
www.gotcupcakes.net
email: gotcupcakes2@yahoo.com  

[Back to Top]     [Back to Index]