How to Survive as a Traveling Soccer Mom
By Carolyn Ting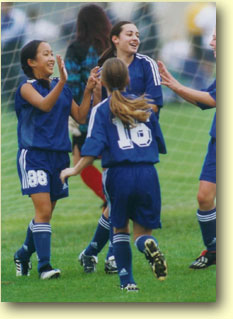 Ah… the world of youth sports. If you have kids in competitive athletics, you know what I mean. Shuttling kids from one field to another, juggling schedules so they arrive on time to practices and get picked up promptly, trading carpool duties with other parents - this surely was not what I had in mind when the girls were small.

When the girls were preschoolers, I remember looking forward to the time when we could really take advantage of matinee showings of local theatre productions, museum visits, andspecial weekend craft faires. We used to take spontaneous trips to get away for a day or two.Monterey was a favorite destination. We would pack up on Friday night, check out places in Monterey on Saturday, and come home on Sunday refreshed.

I would scour local listings for special events going on in the area, and we would check out new places with each visit. Then soccer came into the picture; more specifically, soccer tournaments...

MAKING THE BEST OF LIFE

Matinee shows became non-existent as Saturdays were slowly taken over by car rides bussing kids from one game to the next, field-hopping and soccer games galore. Craft faires and festivals became a distant memory as they almost always coincided with someone's game. And those weekend trips to Monterey? Hmmn, let's see, the last one we took was in...

I have learned that all is not lost, however. God gave us the gift of knowing how to make the most of what we have, so I have slowly learned to make use of this gift. With time, our family has made adjustments. We continue to live and learn. Besides the fatigue factor, we actually look forward to soccer tournament road trips as fun; physically exhausting, but fun.

BEST SURVIVAL TIPS

So what have we learned? We have learned to:

· Prepare for trips. By this, I mean going to your local AAA and getting maps of the areas you'll be in. Trust me, your local AAA should become your best friend. I have no sense of direction; you can literally plop medown on a road somewhere in San Jose, and I will be utterly lost and clueless as to which direction to go.To save time from getting lost and asking for directions, I always go over my routes on a map before I go anywhere. This is especially true with tournament road trips, when games are usually spread out amongst a variety of fields. Of course, you can always go out and buy a GPS system.
· Prepare the kids. Some kids do travel solo for tournaments. Make sure they know to have their papers secure in a carry-on bag. A cell phone or a calling card is very useful in case of emergencies. Provide them with enough pocket money for extra snacks and/or meals, but not too much that they worry about the amount
they're carrying with them.
· Pack light and/or compact. This is especially true for kids whose parents aren't with them. They have to be able to carry all their gear and luggage while running towards the nearest shuttle bus, which is about to take off with the rest of their teammates in it.
· Check and double-check everything before leaving the airport and the rental car place . On a recent tournament trip to Beaverton, Oregon, I had a van full of girls, and I should have been vigilant about doing a final check.Instead of scouring the rental van myself for last minute items, I relied on one of our teens. The next day, I received a frantic call. One of our players had inadvertently left her cell phone and wallet (with more than two hundred dollars in it!) in the rental van. Fortunately, after a few days of tag phone calls with the rental car company, we were able to track down the manager, and they found the items and returned them. Whew!
· Stay in hotels with refrigerators and microwaves . These appliances have been the saving grace for our family on many occasions. It helps save on meal expenses. I freeze meals and bring these for our trips - just kidding. I'm not THAT organized. We usually just hit the local grocery store and buy some staples like milk, fruit, juices, and the occasional frozen meals for quick grub. The girls enjoy the quiet time in the hotel room while they eat and watch TV.
· Hunt down local grocery stores . There is always one close by the hotel. Of course, you have to ask first because hotels will volunteer restaurant information, but oddly enough, not grocery store locations.
· Check out local happenings. The Beaverton tournament organizers coincided their tournament dates with a popular local festival. This is a great way to get a taste of what the area is like.
· Check out local eateries . Be adventurous.
· Make use of the hotel's concierge service, if there is one . If not, talk to the hotel receptionists about what you can do around the area. The locals know their area best. The girls at the Beaverton tournament went on a speed boat sightseeing tour in downtown Portland. We wouldn't have known about this had we not asked around.
· Stay in hotels that offer free breakfasts . The breakfast offerings vary, from basic continental fare to big-spread hot breakfasts, like the ones the Hampton Inn & Suites offer. A great money-saver.
· Research using the Internet. When I have time, I like to check out the tournament host city and see what it has to offer. Most cities have various websites that offer visitor information such as places to visit, places to eat,
recreation, special events, etc. By doing this, it helps you plan your short visits better.


Soccer tournaments can be a neat way of visiting other places. The trick is to approach it with the right attitude and frame of mind. We're learning!

Carolyn Ting is a soccer mom with a coach husband and three soccer-loving daughters. They live in San Jose.