Consumer Lookout:
Reality Trips for Reality TV Fans
By Kathy Chin Leong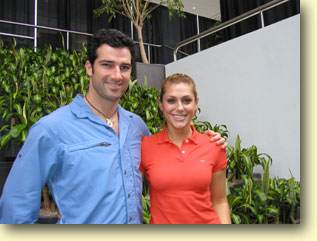 SAN FRANCISCO - Quick! Who are Burton Roberts and Jenna Lewis? Too late! Your time is up. Reality TV show groupees know these celebrities as contestants in the Survivor TV series. Roberts, 33, appeared two years ago on the Survivor: Pearl Islands episodes and was voted off after Week 4. Lewis, 28, a single mom of 9-year-old girl twins, landed on the first Survivor series in 2000 and was called back last year to compete on Survivor All-Stars, ending up on the final three.


Says Lewis, "Before I was on Survivor, I was never out of the country. I didn't know about the show at all because it was new. No one knew it would such a big hit. I wanted to win the million dollars."

Already a world-traveller, Roberts adds that he applied for the show because was keen on going on the adventure and loved the idea of living on an island and learning to survive. "I'd go again in a minute even if there were no reward."

Roberts and Lewis are bringing Survivor and a taste of reality TV to adventure travel. Want to know what goes behind the scenes on Survivor, Big Brother, and Apprentice? Giving a different spin to your typical vacation, the duo have launched Reality Trips, a global adventure travel company which promises to deliver at least one reality show celebrity on each overseas excursion to mingle with the Reality Trips participants.

So far, ten reality stars have committed to going on the expeditions during their entirety. These include contestants from Apprentice 2, The Amazing Race I, and winners from Survivor: Africa. According to Roberts and Lewis, these reality stars will be sharing stories and behind-the-scene tales of their experiences throughout the trip. Imagine having a campfire at night, and instead of awkward silences around the fire, someone from The Apprentice spills the beans on what he really felt like in The Boardroom with Donald Trump.

While details are still being worked out, initial trips are tentatively scheduled for the first quarter of 2006 for Costa Rica and Africa and will last one week. Groups will range from 15 to 20 participants who will fly into the destination on their own dime and meet up with the Reality Trip coordinators and local guides. From there, Reality Trips takes care of all food, lodging, transportation and excursions. People will be sleeping indoors in accommodations in between hostel quality and luxury hotel levels. "There will be some nice places," she promises.

Under the current itinerary, the trips will offer high-adventure excursions such as ziplining, rock climbing, hiking, kayaking and other geographic-specific thrills. Participants can be of any age, but should be physically fit and able to keep up with the group, says Roberts. Each applicant will be interviewed on the phone and screened for final approval.

The price range for a weeklong stay in Costa Rica will run between $2,500 to $3,000 per person, he adds.
In planning this company over a year ago, Roberts and Lewis say they wanted to create an unforgettable adventure for its participants with memories of meeting great people and doing new things. For folks who thrive on action and cultivating friendships, this is the vacation for them. Reality Trips emphasizes bonding and teamwork.

During the trip, the "Reality Guides" will be conducting team building exercises to help travellers get to know one another. Lewis stresses that she has worked as a team building instructor in past jobs, and will use her expertise to develop these activities.

Reality Trips has partnered with existing tour company Global Adrenaline Inc., Chicago, which has experience in adventure touring. They can be reached at www.realitytrips.com .