The Winter Go List for 2020:  Solvang, Carmel, Santa Clara, Healdsburg, Nashville, and Beyond


Happy New Year, everyone!  The weather is changing. You are still in vacation mode. The two do not have to be mutually exclusive.  Welcome to our winter issue where we offer plenty of new vacation and stay-cation ideas to keep your family happy.  With the many gems we have in the Bay Area and California, we are issuing a challenge to revisit your favorite haunts and discover something new. And in our first story about Solvang, we offer to you an old place with a new spin for generational travel. 
As you can see on the photo on the left of Healdsburg,  even in winter, we still have sunshine days.  
With plenty of teacher in-service days, you can do a three-day weekend or just a Friday night through Sunday. If the kids are hankering to burn off energy, we recommend going local by doing a "stay-cation" at the Santa Clara Marriott. Our review begins here.   Close to Levi Stadium, bike trails, Great America, the Marriott recently remodelled its pool area, and your kids will love it. 

They will also love time in Healdsburg in Sonoma County.  See our story about Fall in Healdsburg, and you can decide for yourself.  Only two hours from the South Bay and one hour from San Francisco, the town is ideal for bicycling, shopping, and dining.  We have some great recommendations for your calendar over the next few months in Healdsburg. 

Thinking of going somewhere totally different this year or next? Consider Music City also known as Nashville. We talk about Nashville's Delightful Weirdness in this latest issue. See what your kids will think of giant statues, zoos, and cool museums.  Enjoy gardens?  Your family will love the estates and gardens of Nashville.  In this issue, we also share wtih you great places to eat in Nashville as well.  And less than an hour away from Nashville is the memorable town of Franklin, Tennessee where you'll get a slice of Americana in one day with dining, shopping, and estate and historic home visits.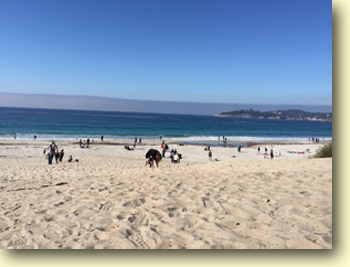 Not far is beloved Carmel-by-the-Sea as you can see on the photo on the left. If you are looking for a fabulous home for a special vacation, check out Sanctuary Vacation Rentals, where each abode is professionally decorated and opulent.  Dive into our review here.  
In the meantime, we want to prepare you for the 2020 birthdays coming up in your friend circle or in your family. We found several  great gifts you can give to your favorite travelling buddy.   First of all, we discovered a few treats.  See our review  by clicking the link.  Organic Ocho Chocolates available in seven flavors and these candies are great pick-me-up treat after a short hike or in the afternoon when you hit a slump and need  a tasty wake-up call.  We also give you the low-down on Re:THINK ice cream, a healthy alternative that uses agave instead of cane sugar. Interesting, yes?  
The Posy Book by Teresa H. Sabankaya is a gift you can get it for yourself or to encourage a friend.  And there's more this season in our toy chest!  See our review of a portable chess set and cell phone lanyard that seems to top the charts here at Bay Area Family Travel.com.  Another product we are raving about is a set of travel clothing for women all made from recycled plastic bottles. See our review of the Wayre products. 
For local  trips and finds, read about our new findings in Lodi called The Accidental Lodi Tourist.  You will uncover wineries, kid museums, parks, and more.  

Parents, ready to find a weekend alone? See our review of the town of Calistoga, and you'll be tempted to visit over and over. 
Sticking around Northern California this season? Go no further than Sonoma for fabulous kiddie-day outings. Take root at the Lodge at Sonoma where your kids will love the pool, hot tub, and local parks.  See our review here. 
And if you haven't figured it out by now, Southwest Airlines is now flying to Hawaii. Do take advantage of any deals you can. Nature lovers will enjoy Kauai Treasures in a focused article on the island's bounty.  And in our other story, see Adventures in Kauai to learn about zipling, tubing through a sugar cane ditch, and ATV-ing through mud.  
Do you like animals?  We go llama hiking in Vail, Colorado.  Come with us on our journey, and read our article: Hoofing it with the Llamas.  
We urge you to consider some new places and new hotels in the local vicinity.  The Monterey Tides Hotel is now under Joie de Vivre family of hotels, and this former Best Western underwent a $12 million facelift.  Enjoy our thorough review of the property.  While in Monterey, be creative and try a never-done-before activity like paddle boarding, kayaking, or whale watching.  Bring your bicycle and jump on the bike path hugs the ocean vista. Try a restaurant on the wharf that you have always wanted to visit, but never had the time.   Drive the 17-mile dream route in Carmel.  In other words, break out of your routine, and your kids will thank you for it, especially as they get older. 
Check out our deals in the Deals page. There are lots available in San Francisco, so consider going there soon.  And then look at the Calendar to try a new activity.
And historic hotels are looking pretty good this time of year in Mendocino. Read our review of the Little River Inn, and find out how you can enjoy a weekend up in this coastal retreat with the kids. 

BAFT contributor Donna Corwin offers up Montana as a place that can become your new favorite state.  Check out her review of Flathead Lake Lodge to see what memories you can drum up with your family.  

International travel is an adventure and education for all families. Our latest story Cuba: A Country of Contrasts is an eye-opener as the country is still very old world in many ways.  Learn about Havana and the various places you can bring the kiddos to enjoy. 
 Next, we go up north, and we take you to the town of Calistoga in Napa Valley. check out our latest review of things to do with the kids while in this bucolic resort town from the 1800s. Next, we hit up the Westin Napa Verasa. Check out our review here.  It's a place right in downtown Napa, and you will have access to activities, restaurants, and all you need to have a great time.
And it comes to practical matters, learn how to go green on your next vacation - Consumer Lookout. It's not that hard.
Don't miss other relevant and timely columns:
Healthy Recipe for Cacao Bites - Consumer Lookout
Alkaline water bottles - Products
Vice Cream Ice Cream Hits Stores- Products
We wish you a great decade with friends and family.  Be happy like my friend Joyce Kiefer pictured swinging above. May you continue building fond memories through travel!

Kathy Chin Leong
Executive Editor