The Winter Go List: Lake Tahoe, San Francisco, Washington
Ahh… Lake Tahoe, one of the deepest, clearest lakes in the world. This international destination is less than half a gas tank away from the Bay Area. In this picture on the left, this is how it looked a few months ago. Not any more. There's tons of white stuff on the mountains!  See our review of the Village at Squaw hotel and condo suites if you are looking for a place to stay.

And if you go, I must recommend our new favorite restaurant in Truckee, the Truckee Tavern and Grill. On the main drag of downtown Truckee, this brand new American chop house has it nailed down in terms of flavor, freshness, and authentic local flavors.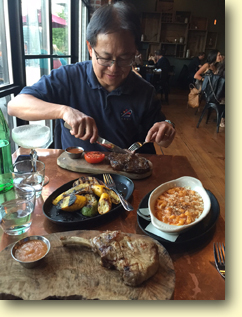 It's already won first place several times in its local restaurant award categories. You must eat to believe! Check out its website for the menu www.truckeetavern.com.
 
And for a one-day hit, the San Francisco Bay Area is rife with so many things to do that it is simple to find a raft of activities right at your doorstep. This fall we highlight Ghirardelli Square, now under new ownership, and the glorious Fairmont Ghirardelli hotel and suites. Fall is the perfect time to visit this open air gallery of shops and restaurants where music and buskers entertain daily.

And on another day, do visit The Presidio, a national park trust. This gorgeous space opens up into the water, and the views are fantastic.  Go on a trail walk, meander through the museums, and enjoy the food trucks on Thursday nights. Right now the weather is clear. Days are warm while nights are brisk. From California, Joyce Kiefer takes us to Vashon Island of Washington. Her story speaks of a community full of charm and intrigue. 

Other stories in this issue include:
Review of the Toyota Sienna – Products
Snack-in-a-Box Review, etc.  – Products
Where to Find The Best Views in San Francisco – North Bay
Arizona hotel deals and more - Deals
Go Green On Your Next Vacation - Consumer Lookout
Intercontinental's Planet Trekkers Kids Program - Foreign 
Jams and Mess Free Crayons - Products
Pittsburg, Penn. is on the Rise - States
Review of the Highlander Hybrid - Products

Happy New Year! 

Sincerely,
Kathy Chin Leong
Executive Editor